Purpose of the study

The aim of the study is to investigate the relationship between body image and sexual functioning in women, in particular how body– and sexually–relevant stimuli are perceived and valued. The expected results will be important to help us understand better the role of body image and sexual functioning in the development and /or maintenance of body dissatisfaction and sexual dysfunction, and their potential interaction.
What, where, when?
Participation will include two appointments. On the first day (3h) a detailed diagnostic interview will be conducted and a photo of the full body (without the head) will be taken. During the second appointment (2h) you will be asked to passively view photos of your own body and those of others, and also erotic pictures on a computer screen while your eye movements will be monitored. Additionally, you will be asked to watch an erotic video clip while we will measure your general arousal (heart rate and sweating on your palm).
Eligibility criteria
We are looking for female participants aged 18-45 who speak English, French, or German.
Compensation for time
50€ for participation.
Contact point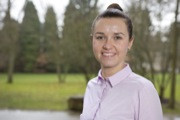 Agnieszka Czeluscinska-Peczkowska, M.Sc. (agnieszka.czeluscinska@uni.lu)
Research Unit INSIDE, Institute for Health and Behaviour, Research Group Self-Regulation and Health (Prof. Dr. Claus Vögele)
If you are interested, please go to this page to complete the screening questionnaires.
We will then contact you to schedule the first appointment.