"How can I support persons with dementia and their family caregivers?"
  "How to communicate with a person with dementia who is not able to speak anymore?"
  "Where does aggressive behavior come from, and how to deal with it?"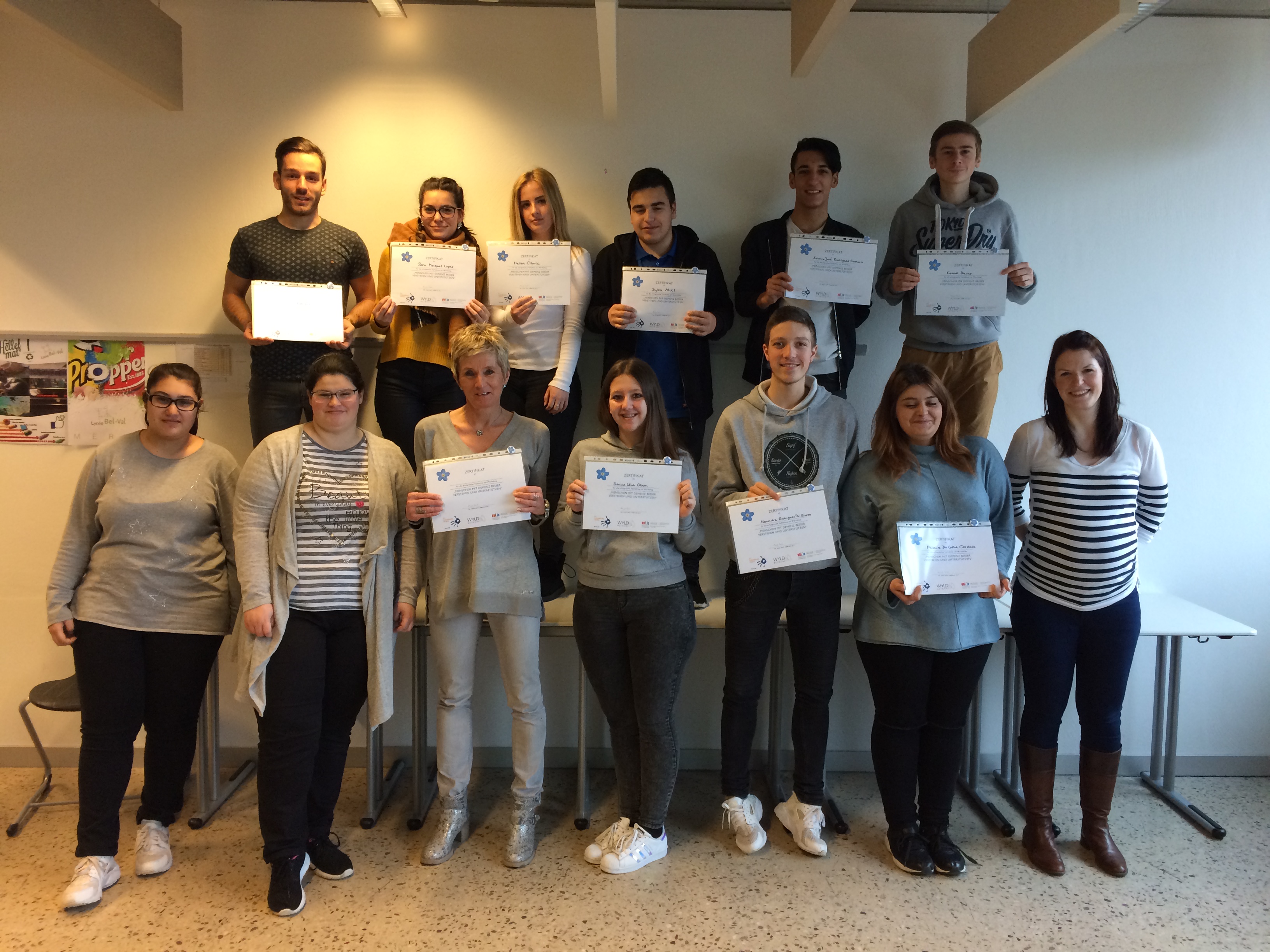 These are just some of the questions that were raised at the workshops entitled "Understanding and supporting persons with dementia", recently organised by Dr Anja Leist from the PEARL Institute for Research on Socio-Economic Inequality (IRSEI). The three workshops were funded by the Rotary Club Luxembourg-Hearts, and held at the Lycée Bel-Val in Esch-sur-Alzette. Activities included quiz, empathy exercises, videos, talks, and discussions, all of which aiming to expand pupils' knowledge on dementia.
The teenagers seemed to particularly enjoy the interactive quiz, for which they used their mobile phone in order to respond "true" or "false" to a series of statements about dementia. After showing the voting results, the trainer provided the answer, together with an explanation about scientific fields that produced this knowledge and the methods behind it. For example:
"Dementia is part of the normal ageing process". The right answer is "false",  as you can live a long life without being affected by dementia. We know this thanks to clinical and epidemiological research, in which large samples of elderly individuals are examined using cognitive tests and imaging methods.
In group discussions, the participating teenagers shared their experiences concerning people with dementia in the family and internships, or vocational training. Difficulties and ways to deal with complicated situations were discussed, such as dealing with repeated questions, requests that were not possible to fulfill, and the person with dementia forgetting that a loved one has passed away. The groups also learned about communicating with persons with dementia and the fact that sometimes 'white lies' are necessary. See here for a story on the right way to communicate.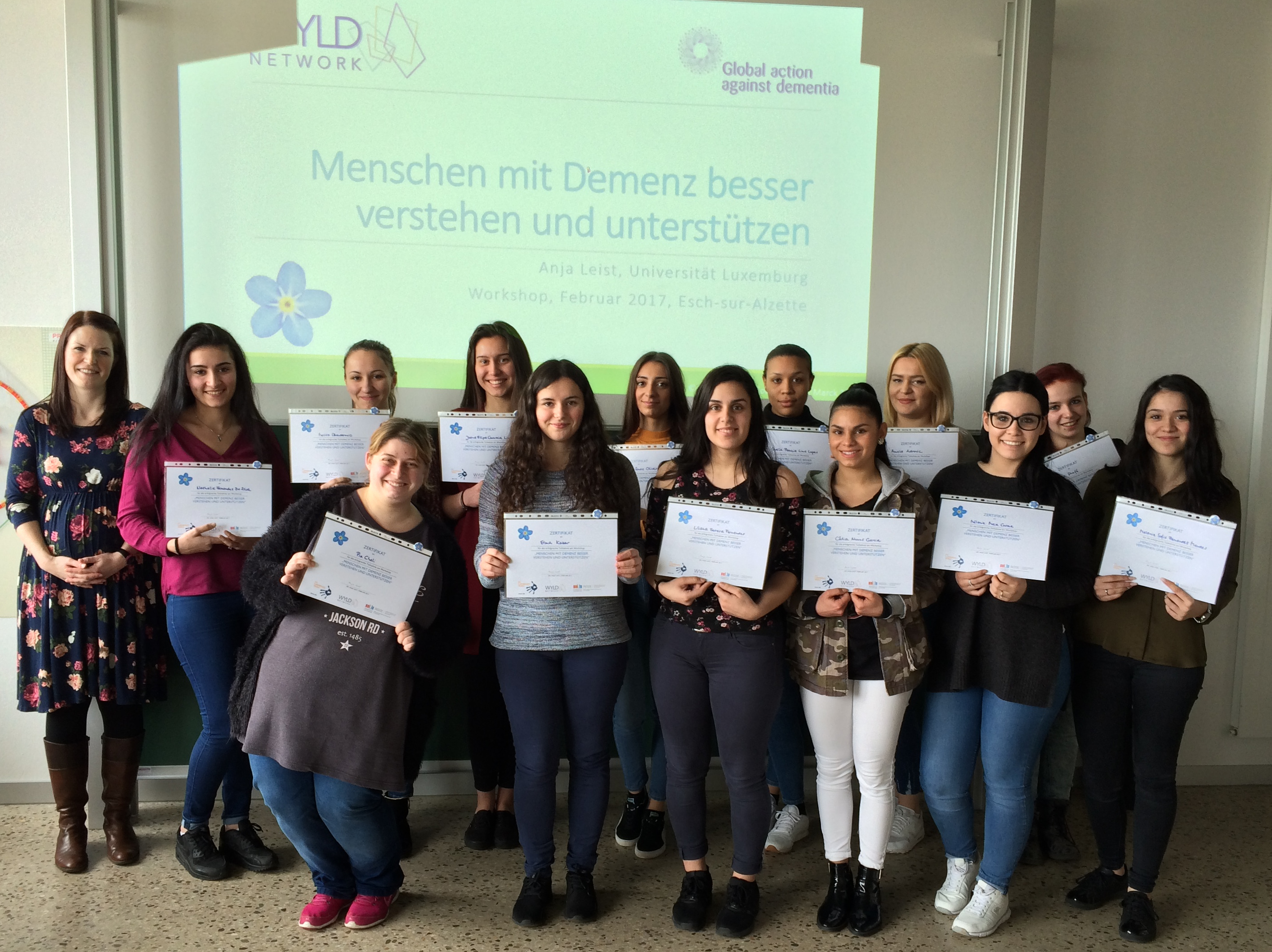 Other examples of questions raised were:
Is there a medical treatment to slow down the progression of dementia?
Are people with dementia still able to make (financial and other) decisions themselves?
Can new methods detect the onset of dementia already 15 to 20 years in advance?
It is important to keep in mind that the workshop can only disseminate the current knowledge on dementia, and, in the future, we will certainly know more about dementia, be it (hopefully!) a possible cure or better ways to care. New technologies might be able to help people staying independent for longer, and help interacting with others even in late stages of their disease. Knowing that the state-of-the-art in dementia will be very different in 5, 10 or 15 years, the trainer also shared a collection of different ways to be informed about dementia. This collection included links to direct scientific evidence (e.g. relevant search engines, journals, books) and indirect information such as publications from Alzheimer organizations (e.g., Alzheimer's Society UK, Alzheimer's Disease International, health organizations, the national information center Liewe mat Demenz, and reports by the WHO).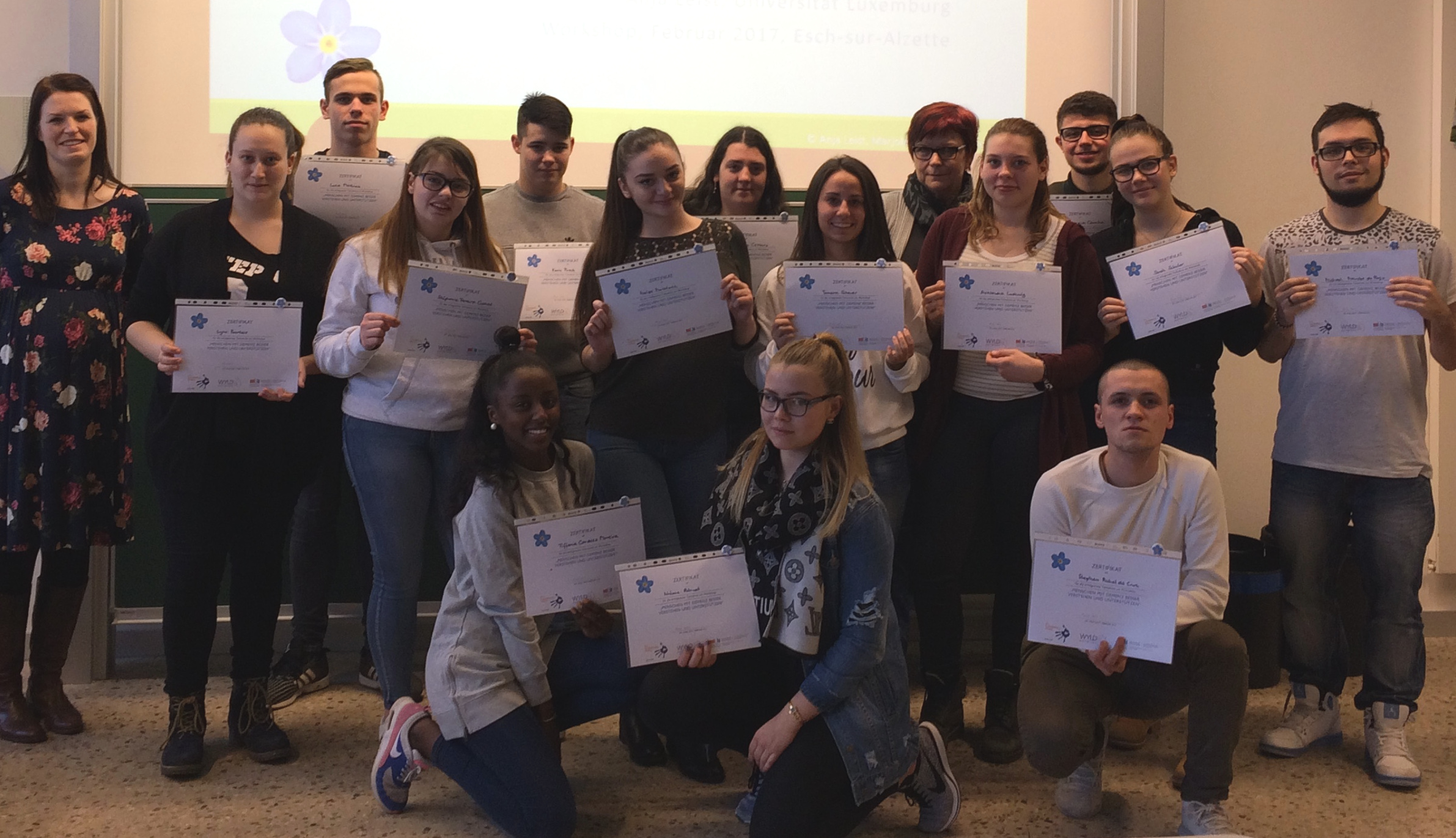 At the end of the workshop, students received a certificate and a pin with the "Forget me not" flower, which is a widely used symbol for a dementia-friendly society. Even if there is no national dementia awareness campaign in Luxembourg (yet?), every society should become more dementia friendly. The trained teenagers in Luxembourg can be proud to be knowledgeable and aware of dementia.